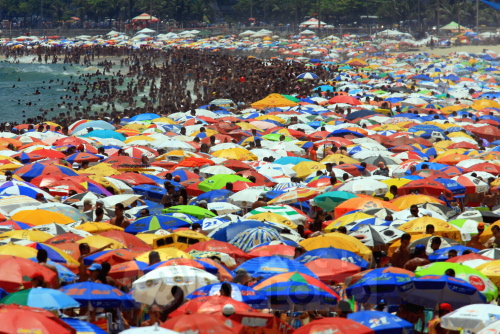 This is 'da' day, man. I've already done my part: fixed up a huge deli platter, had champagne, and went to bed really late. Did all that yesterday. The only thing I don't like about celebrating birthday in January is the weather. Summer sucks pretty bad. If at least I liked the beach... Hell no! If at least I enjoyed getting tanned... Nah! By looking at this photo above (yew!), I can assure you I'd rather stay home.
So, summer's home now but vacation has left. I did spend 15 days at my parents'. The 21-hour road trip didn't kill me. What made me sick was the excess of good food, cold beer, and sleepless nights though. I ended up not reading the books I had picked out. I ended up NOT watching any movie. I ended up NOT meeting half of the crazy folks I needed to see.
My parents live in a
small fucked up town
. It is actually where I was born and raised 'till I turned 16. Seeing my people was something that I was willing to do for a loooong time. But I wasn't missing that place. Small town people drive too slow. They gossip too fast. For small town people, we are named after the vehicles we ride:
A: "D'you know Susana? Susana, the one who drives a red Toyota?"
B: Oh yeah! She wrecked her car last week.
A: Really? I bet she was drunk.
All of a sudden, Susana killed pedestrians 'cause she drove drunk. Now, this is a fact. Once, at a party I went peeing by the pool, behind some bushes (of course), and on the next day I was asked how it felt peeing in front of the guests, in the middle of the dance floor. Hello?!?!
The whole vacation at my parents' went well, thanks to a neighbor city where malls and McD's can be found. Blogger friends, there are only two stop lights in the entire town. There are 6 buildings and only one movie theater. I am glad that there are bars everywhere. There are more bars than Protestant new churches out there. That means: LOTS OF BARS. Embarrassing moments happened as well. It is really funny being pointed out on the streets by the way we dress up. Something that will be trendy there in a couple of years. Too bad for the moment but later on, I was confident and all with my outfits. Apart from that, having free beers by the pool was the highlight of my vacation (Thanks Luciana!).
Oh dear God, summer has sucked pretty bad. Now, I am back home. No swimming pools. No free beers. No childhood friends around. People here don't go by their nicknames. People here use "real" street names to give directions. It is nothing like living in a small town. Am I missing that crappy place? It does sound like it. Oh well... my feelings for that city lie on a mix of love and hate. It is pretty similar to what I feel about SUMMER.
Curiosity Fact: I got really thrilled by
Ange's today's post
. "YOU ARE AWESOME, DEAR!"